Form Submitted Successfully
Pragya Solutions Bangladesh is coordinating programming activities in partnership with local grassroots organisations. These projects are across the domains of Water and Sanitation, Livelihoods and Natural Resource Management, Adaptation to Climate Change and Disaster Preparedness, as well as Preventing Violence against Women. Through our country office and team in Dhaka, we oversee and monitor programming, provide technical inputs, and network with country and regional actors towards maximum impacts on development policy and practice.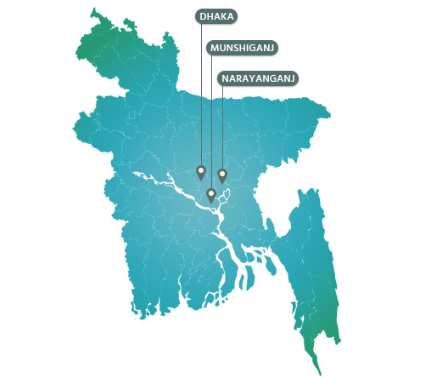 Indicative Projects
Flood-adapted Water & Sanitation
Design of flood-adapted sanitation and water filtration technologies effective in removing arsenic contamination, followed by installation for deprived flood-affected communities in Munshiganj and Narayanganj districts, thus providing safe drinking water facilities and sanitary toilets for community use. Trained stakeholders and masons in flood-adapted WASH technologies, building community awareness on WASH and developing community organisations for WASH management.
Participatory HVCA in Flood-prone Areas
Conducted participatory vulnerability assessments in Munshiganj district to map the damage profile and requirements of the inhabitant families in collaboration with the local government, leading to development of HVCA maps for selected vulnerable river islands. Mitigation actions for hazards were identified and helped prioritisation of action options to reduce vulnerabilities and contributed to improve the adaptation and disaster resilience of the vulnerable river island communities.
Rebuilding Livelihoods in Flood-ravaged River Islands
Response to 2017 floods in Munshiganj district aimed at rehabilitation of livelihoods for flood-affected families, involving livestock distribution along with training on fodder and feed management for the animals..
Addressing Violence against Women and Girls
Assessed vulnerability of women and girls to violence, including trafficking, particularly in hazard-prone areas, and provided empowerment training for women's groups in Munshiganj district, with inputs on rights, health and livelihoods. Resulting in enhanced women's assertion and solidarity.